Another great release fr. the Los Angeles Death Rock band Kommunity F.K. If you are fortunate to aquire this album , may I suggest getting it; As far as I know this album has been out of print for quite some time....You might be able to find it on EBay, but chances ar eit will be quite pricey; F.K.
Kommunity F.K./Close One Sad Eye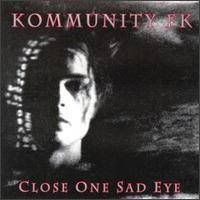 Download HERE..................
http://www.mediafire.com/file/mmq02mzmymd/Kommunity FK [Close One Sad Eye] -01- Something Inside Me Has Died.mp3
http://www.mediafire.com/file/mjhwzxrjjmz/Kommunity FK [Close One Sad Eye] -02- The Other World.mp3
http://www.mediafire.com/file/qdq2hqmnizv/Kommunity FK [Close One Sad Eye] -05- Trollops.mp3
http://www.mediafire.com/file/i23t4yohtfj/Kommunity FK [Close One Sad Eye] -06- The Vision And The Voice.mp3
Kommunity F.K. / Something Inside Of Me Has Died
Kommunity F.K. /Live @ The Roxy 9/13/2008- The Other World
links*
-----------
kommunityfk.com
http://www.myspace.com/kommunityfk